This coming Monday, September 15, at 11:15am,
DC for Reasonable Development
, a citywide coalition representing all eight wards, will stand in front of an audience of the media, the City Council, and Mayor on the steps of the John A. Wilson building downtown to demand an end to bad planning in DC!
DC4RD will deliver a letter signed by 100+ of the most politically engaged voters in the District demanding that:
Any action on the proposed zoning regulations be deferred until after a robust public discussion of (and a Council vote on) amendments to the Comprehensive Plan,
The incoming Mayor appoint a new Deputy Mayor for Planning and Economic Development, a new Director of the Office of Planning, and a new member of Zoning Commission,
The Council require, as a condition of confirmation, that candidates for these positions have a track record of, and a commitment to, constructive engagement with diverse groups of citizens, and that,
Decisions on controversial public land PUDs be postponed until after these new leaders have been appointed and confirmed.
Event Details:
What: DC for Reasonable Development Press Conference / Presentation of our letter to City Council and Mayor
When: Monday, September 15, 2014, starting at 11:15am
Where:
Front steps of the John A. Wilson building, 1350 Pennsylvania Ave. NW; (Metro: Federal Triangle; or Metro Center stops) See the online map here >>
http://tinyurl.com/wilson-building-dc
---
ONE DC is seeking creative and dynamic individuals with a genuine interest in getting on-the-ground experience with community organizing around economic & racial justice issues, as well as a strong desire to learn, grow, and contribute to social change and community-building campaigns.
We are currently seeking interns to support our on-going campaigns and administrative work.
Organizing Intern Responsibilities
Help recruit and develop relationships with ONE DC members by conducting outreach via phone banking, one-on-one visits, and neighborhood door-knocking throughout the District.
Help develop leadership capacity of ONE DC members
Research economic and racial justice issues and legislation related to the Black Workers' Center, Right to Income, Right to Housing, or People's Platform campaigns.
Attend staff meetings and strategizing sessions
Assist with facilitation and planning of ONE DC organizational and campaign events and popular education workshops
Track organizing and outreach efforts through data entry into Nation Builder contact database.
Help develop and/or edit outreach materials such as flyers, email blasts, and social media posts
Administrative Intern Responsibilities
Update ONE DC database (Nation Builder) to track membership, donations, and attendance at events.

Import spreadsheets from events and campaign meetings
Apply appropriate tags for individuals and organizations based on campaign interest, location, method of signup, email list, etc.
Merge duplicate memberships
Enter donation & paid membership information

Assist with communications through social media, email blasts, and website updates

Help edit email blasts and monthly e-newsletter
Edit & publish website, Facebook, Twitter posts

Attend ONE DC staff meetings and take notes or facilitate as needed
Attend & help facilitate ONE DC events & campaign meetings as needed
Assist with outreach for organizing, meetings, and events

Phone banking
Outreach Days
Qualifications
Strong written, verbal, and interpersonal communication skills
Demonstrated interest in direct, grassroots organizing, base building, and membership development.
Strong computer and internet research skills
Ability to build unity and motivate others to action
Self-motivated
Skilled at working as a part of a team
Flexible hours and ability to work some evenings & weekends.
Additional Qualifications
Knowledge of Washington, DC issues and organizations
Spanish or Amharic language proficiency a plus
Knowledge of social justice issues surrounding race, class, gender, & sexuality.
High level of empathy, curiosity, and autonomy
Eye for detail
Desire to deepen a political analysis and learn about the history of social movements
A reflective professional practice and active commitment to self-critique
Willingness to engage in honest, constructive, mindful, and compassionate reciprocal critique of work with teams and other staff
Knowledge of Nation Builder a plus
Intern Outcomes
Develop organizing skills and learn about methods, strategies, and challenges
Learn ONE DC history and organizing strategy
Learn DC organizing history and present economic and racial issues faced by DC residents, such as displacement and unemployment, and current movements to effect change
Develop communication skills
Learn about DC housing and employment policy issues and other community organizations in DC
Gain Nation Builder skills
Additional Details
Approximately 10-15 hours per week in office and in the community. Ability to work some evenings and weekends for campaign events, meetings, and outreach as needed.
We cannot provide stipends at this time, but will work with your school, university, or program to provide course credit or verify community service hours.
Native Washingtonians and/or DC residents given strong preference.
People of color, women, LGBTQ and bilingual applicants are strongly encouraged to apply.
To apply, please email organizer@onedconline.org with resume and cover letter.
---
---
"For Ebony, Brown, and Tesfamariam, the expiration of Bush's tax-credit obligations has meant paying more rent, struggling to get by, and most likely trying to move in a year's time, when the rent will rise to the full market rate. For some of their neighbors, it meant moving out immediately. In both cases, the previously affordable units were lost forever to the ever-rising demands of the free market."
--from Aaron Wiener, "Why D.C. Is About to Have Even Less Affordable Housing," Washington City Paper 8/6/14
Read the full article describing the organizing efforts of ONE DC members and analyzing DC low-income housing policies here.
---
By Mount Vernon Plaza Tenant Association
We are residents of Mount Vernon Plaza. Some of us have lived in Mount Vernon Plaza since the affordability program, the Low-Income Housing Tax Credit, began. When we moved in, we were never told that the affordability program would expire this year. We only found out two months before we were asked to either sign a new lease paying up to $600 a month more or move out!
We have families and some of us are on a fixed income. But our backs were up against the wall and many of us felt we had no choice but to sign the new lease. We were shocked to learn that there is no affordability provision after the Low-Income Housing Tax Credit expires. This means thousands and thousands of residents in the District will soon be in the same position that we are in today.
There's no point in having an affordability program if after it expires residents are forced to be homeless or imprisoned in sky-high rents! But we have ideas about how we can fix this.
First, we need immediate relief now; we need the council or DHCD to start subsidizing the expired LIHTC buildings like Mount Vernon Plaza now. We want subsidy for all of the expired LIHTC units, even the units that were forced to start paying market-rate rent.
Second, we need legislation passed that compels tax-credit owners to enforce at least a year notice before any rent increase. But this legislation must also say that any expired LIHTC buildings immediately revert to rent control.

Read More Here & Take Action to Support Mount Vernon Plaza

Please also visit savemuseumsquare.com for more info about the tenant struggle to resist displacement at Museum Square, a sister property of Mount Vernon Plaza.
---
Linda Leaks, a ONE DC member and long time DC organizer, is supporting the Bass Place tenants in an effort to purchase their building and convert it into a limited equity cooperative.  University Legal Services and Martha Davis asked ONE DC to provide cooperative housing education and organizing for 5100 Bass Place Tenants Association. The Department of Housing and Community Development signed a commitment letter to approve financing for the tenants to purchase their building.
---
By Nadia Johnson
Being a young president of a tenant association one faces many challenges, such as the people you are fighting for don't see a reason worth fighting anymore. I was starting to feel like these challenges and many other challenges yet to come was unique to me and vice president Kimberly because of our age and our inexperience of being a part of a tenant association.

However, that was all before we went to a community organizing and leadership development institute in Chicago. Not only did we discover that there are many people who are going through the same struggle we are going through when it comes to public housing and organizing tenants, but that it is a struggle that crosses racial, sexual orientation, class, religion, and educational borders. We also saw how there are so many young people who are fighting for the same beliefs and principles that we are fighting for and that was refreshing to both see and hear. What was the name of this great leadership conference where we got all this new inspiration from? Well, if you really want to know, it was the Ella Baker Institute.
ONE DC members & other EBI participants visit local Chicago muralist Hector Duarte.
Ella Baker founded an organization called the Student Nonviolent Coordination Committee (SNCC) which was a civil rights organization that combated racial inequality during the 1960s. In developing SNCC, Ella decided that this organization should hit two fronts-- direct action and voter registration. Ella believed in "participatory democracy," meaning each person should get involved individually and have a voice in the organization. She also argued that "people under the heel," referring to the most oppressed sectors of any community, "had to be the ones to decide what action they were going to take to get (out) from under their oppression."

In learning this at the retreat, I have decided to take the Heritage at Shaw Station Tenant Association into a different direction. This direction is going to be broken down into two pieces: direct action by the tenant association and the tenants; and to have every tenant on the property, both new and old, to see their place in this fight and to commit fully to participating.

All in all, I am glad that we attended this retreat about leadership. I not only learned about Ella Baker, but I also got to see the sights of Chicago and be revived spiritually, emotionally, and mentally by the culture of Chicago, the common sisterhood and brotherhood of other leaders in the struggle, and the wonderful and inspirational poetry that we heard. It is my hope that along with vice president Kimberly, we can take the necessary steps forward and bring the tenant association into new heights.
For more info about Heritage at Shaw Station, formerly Lincoln Westmoreland II, click here
---
By Nkechi Feaster
I became an advocate, not because of my idealistic heart and character; but because I saw how the low income community was highly discriminated against in DC. Stereotyped, held back, dismissed, and diminished further than just being black, or single parents, or low-income. It was tragic. Speaking out against the wrongs against my community was easy for me. I have learned how to channel the voice my mother always said I used too much growing up to speak against these wrongs, so advocacy came easy for me.
Organizing, I found, was a different breed of the same fight, however. I had to learn to quiet my own voice and help others either find theirs, learn how to use theirs, or give them the proper avenue to use it. I had to learn to build my political analysis, learn the lingo of the field, and learn how to fight the good fight. And I am still learning.
I started learning with ONE DC as an organizer. ONE DC, in my opinion, gains much respect from me for not only fighting the good fight, but HOW they fight it! They put the needs of the community above all else, to the point that it's not until they go out to hear the voices in the community that they even design their campaigns and fights. A community-based organization that is actually about the community!
So when ONE DC asked me if I was interested in going to Chicago to attend the Ella Baker Institute's Training, I jumped at the opportunity. I was always interested in visiting Chicago, but only during one of the few warm months of the year, so even the timing was perfect and it ended up being the best trip I have taken thus far!

I, along with a staff member of ONE DC and the president and vice president of the Heritage at Shaw Station Tenant Association that is supported by ONE DC, landed on a Thursday afternoon. Since training didn't start until the next day, we got the opportunity to see a little bit of the city. We were able to attend the Taste of Chicago, sample some of the city's delicacies and even see Janelle Monae perform! As a lover of music and a fan, I wasn't able to stop dancing the whole time! It was the perfect opening to the next 5 days.
The very first day of training, I wasn't sure what to expect. I came in simply ready to learn. I ended up being deeply inspired by Climbing PoeTree; a social justice poetry group that was selected to open the training. As a writer and poet, this touched me in more than one way. Climbing Poetree not only put beautiful words to the fight that we all were fighting, but also served as a muse to everyone in the room to keep on fighting.


The next 5 days were filled with speakers on many social justice issues; from racism to feminism; from colonialism to reparations. We even had the honor of hearing from two women from Palestine speak on the tragedies that have been going on in their homeland. There was so much information to cover that even two weeks after the trip, I am still neck deep in research and reading. I wasn't expecting to get answers on how to end the fight for justice, but I did not expect to get so much information on those who have already been fighting.

I was also able to see a lot of the culture of the city. We were able to go on a mural tour of the Pilsen neighborhood and even meet one of the artists. We were able to visit a phenomenal open mic, which again, as a writer touched the creative side of me. We were able to go to the top of the former Sears Tower and get a view of the beauty of the city as a whole.

The entire trip was beautiful and spoke to many different sides of me. The nerd in me was filled with information. The creative talent in me was inspired by murals, paintings and poetry. The organizer I am becoming was given inspiration to keep going and do it better. I am so happy to have been given an opportunity such as this!
---
Join OUR DC and Good Jobs Nation at a rally and press conference tomorrow to highlight the plight of low-wage federal contract workers who are calling on the President to do more than the minimum, and issue a Good Jobs Executive Order (read about it in the Washington Post).  
TUESDAY, JULY 29 at 9am, UNION STATION
Hundreds of Good Jobs Nation workers will gather to declare that the President's $10.10 Executive Order is a great first step, but it's not enough to lift them out of poverty.   These workers need more than the minimum – they need a Good Jobs Executive Order that makes sure federal contractors respect collective bargaining rights, pay living wages and benefits, stop wage theft, and don't pay CEOs excessive salaries.
WHAT:  Press Conference for Low-Wage Contract Workers
WHO:  Low-wage federal contract workers, Sr. Simone Campbell, Members of Congress
WHEN: 9am on Tuesday, July 29th
WHERE:  Columbus Circle, in front of Union Station

---
Written by GREGORY D. SQUIRES, DOMINIC T. MOULDEN AND KALFANI N. TURE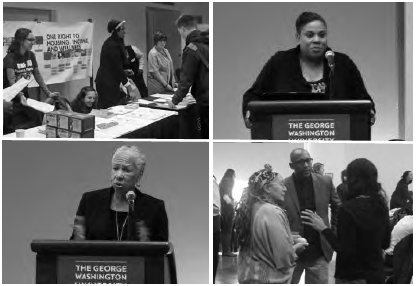 "Angela Glover Blackwell set the tone in her keynote address when she called for a new national narrative on community development; one based on current demographic and economic realities, not just morality. [...] Recognizing the continuing racial and class segregation of cities she focused a laser on the significance of place in shaping the nation's opportunity structure. She reminded the group how neighborhood determines [...] virtually all aspects of the quality of life, including life expectancy itself."
For the full article, click here.
The second annual Equitable Development Symposium will take place March 26, 2015.
---